David Lees, English Master Craftsman.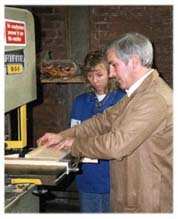 David Lees, an English Master Craftsman was born in the North of England. He served a 6 year apprenticeship and was taught his profession by highly respected British Master Craftsmen. He has been involved in all aspects of high class joinery and carpentry, including creating fine furniture, for over 30 years. After spending a number of years working for a respected joinery company in England, he moved into teaching. David was the head of carpentry and joinery at a college in the North of England where he enjoyed passing on his knowledge to eager students. He has been married to a Canadian for over 30 years and now lives with his family just outside the beautiful city of Victoria, British Columbia. After leaving England in 1996 David and his family achieved their dream of owning their own furniture business in Canada. From his studio in the Highlands he creates elegant Arts & Crafts Style furniture and draws inspiration from the beauty of the pacific coast. Davidís pride and passion for working in wood is reflected in his work. Although David has created furniture in other styles, and still does, he has always been drawn to the Arts & Crafts Style due to the clean lines, traditional construction techniques, quality and honesty of design. He is a strong believer in the Arts & Crafts philosophy of creating furniture that will last a lifetime. By closely following this philosophy David is Creating Tomorrows Antiques Today.

Committed to Quality and Craftsmanship.
Crestwood Design is committed to employing traditional techniques in the construction of our furniture, lighting and accessories. These traditional techniques may take more time but are an integral element of the Arts & Crafts Style. Each piece we create is thoroughly examined to ensure it meets our high standards of quality. At Crestwood Design we are committed to providing only the finest quality products, we will not accept second best and do not expect our customers to do so.
"Traditional methods of construction often take more time but the final result is worth the effort."
David Lees

Committed to Our Customers.
At Crestwood Design we are strongly committed to customer service and aim to build lasting relationships with each one of our customers. Providing excellent customer service is a strong part of the philosophy of Crestwood Design. We work closely with each customer throughout the creation of their fine furniture to make them feel part of the process. At Crestwood Design we don't want you to just become one of our valued customers, we want you to become part of the Crestwood Design experience.

Committed to the Environment.
Crestwood Design is strongly committed to the environment. We only use timbers that are from a renewable resource to ensure that future generations can enjoy our natural resources. All our products are created using only environmentally friendly products. We believe it is the responsibility of our generation to ensure our environment is protected for future generations to enjoy. Please click on the link to see more information about our finishes.